Polypropylene is the best thermoplastic for chemical uses resins and partially crystalline resin belonging to the engineering thermoplastic family of polyolefins. PPH Ball Valve is obtained through the polymerization of propylene (C3H6) with the aid of catalysts.
PPH Ball Valve provides optimum use in chemical piping systems, the latest-generation Polypropylene Homopolymer variant, or PP-H, offers excellent performance at working temperatures of up to 100° C and high resistance to chemicals due to the excellent physical and thermal characteristics of the resin.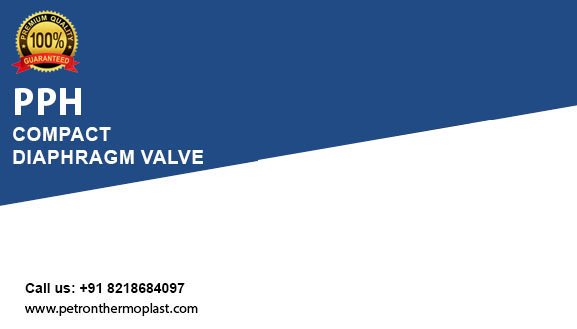 PPH COMPACT DIAPHRAGM VALVE
PPH DIALOCK 2-WAY DIAPHRAGM VALVE
PPH DUAL BLOCK 3-WAY BALL VALVE
PPH EASYFIT TRUE UNION BALL AND SPRING CHECK VALVE
PPH PNEUMATIC BUTTERFLY VALVE
PPH ELECTRIC ACTUATOR BALL VALV
PPH ELECTRIC ACTUATOR BUTTERFLY VALVE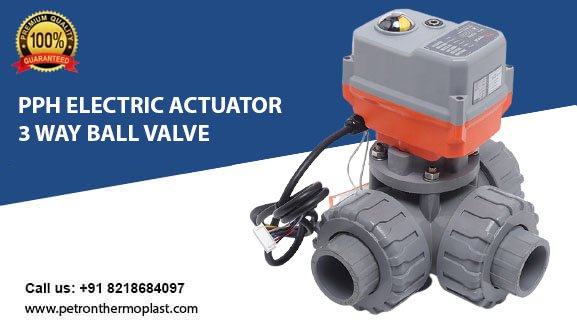 PPH ELECTRIC ACTUATOR 3 WAY BALL VALVE
PPH PNEUMATIC ACTUATOR 3 WAY BALL VALVE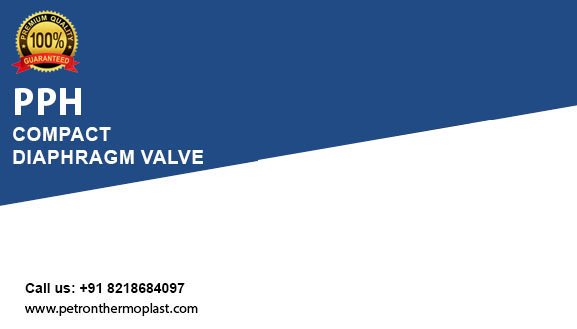 Product advantages PPH Ball Valve:
PP-H True Union Ball valve inner body is processed by digital lath to ensure the seal of the threaded carrier.
Thermal resistance of PPH – service range 0 °C -100 °C (see pressure/temperature regression curves)
Each ball Valves at Petron Thermoplast plant to be polished after rough turning, fine-tuning & manufacturing to ensure its smooth and good performance in the seal.
The body and hole of the stem should be processed by lath to assure the stability of the seal and to increase strength.
The tooth of products are processed and finished by lathes to ensure the union cap and the body is assembled more closely.
All ball valves were tested on pressure/hydro test before dispatch from our factory.
The valve should be double blocking with union ends, locking of union nuts design ANTI-shocking.
Can be assembled with electric or pneumatic actuators.
The PPH line in the latest-generation Polypropylene Homopolymer consists of a comprehensive range of pipes, fittings, & ball valve,s and valves for use in the construction of process and service lines for conveying pressurized industrial fluids and for maximum operating temperatures of up to 100° C.
The entire line is made of Polypropylene Homopolymer resins MRS 100 (PP-H 100) according to the classification DIN 8077-8078, DIN 16962 and approved by DIBt – Deutsches Institut für Bautechnik for use in industrial processes. The main properties of the latest-generation Homopolymer resins are:
High chemical resistance:
In addition to ensuring excellent chemical resistance, especially against halogens and alkaline solutions, the use of PP-H resins with special additives also ensures.
excellent mechanical properties when conveying detergents and similar chemicals. PP-H resins are also fully compatible with the transport of drinking, unconditioned, demineralized and spa water for therapeutic and kinotherapeutic uses.
 Excellent thermal stability:
Particularly in the intermediate temperature range between 10° C and 80°. C typical of industrial applications, PP-H ensures excellent mechanical strength and impact resistance with high safety factors.
PP-H resins have a high circumferential breaking strength (MinimumRequired Strength MRS ≥ 10.0 MPa at 20°C) and allow long installation lifetimes without showing any signs of significant physical-mechanical deterioration.
PETRONTHERMOPLAST has developed & manufacturers of PPH ball valves in India to introduce a high reference standard in thermoplastic valve design. PPH True Union ball valve that meets the most stringent needs required by industrial applications.
 We provide all Connection systems in pph ball valve for buttweld, threaded and flanged joints as per customers' needs.
Patented SEAT STOP® ball carrier system that lets you micro-adjust ball seats and minimizes the axial force effect.
Easy radial dismounting allowing quick replacement of O-rings and ball seats without any need for tools.
PN16 FIP PPH True Union valve body made for rigid PPH injection molding equipped with built-in bores for actuation. ISO 9393 compliant test requisites.
Option of dismounting downstream pipes with the valve in the closed position.
 Floating full bore ball with high surface finish. Integrated bracket for valve anchoring.
Ball seat carriers can be adjusted using the Easytorque adjustment kit.
Possibility to have a handle with integrated LSQT limit micro switch, even as a retrofit in existing installations.
Technical specifications
Construction
PPH 2-way True Union ball valve with locked carrier and union nuts.
Nominal pressure
DN 10- 150
Temperature range
PN 16 with water at 100 °C
Temperature range
0 °C ÷ 100 °C
Coupling standards
Solvent welding: Butt welding with contact heating elements is the process of joining two elements
(pipes and/or fittings) of the same diameter and thickness, the joining surfaces of
which are heated until fusion by contact with a heating element and then, after the
the heating element has been removed, are pressed together to form the weld.
The following instructions are provided for reference purposes only. Installers must
be properly trained and have an in-depth knowledge of the procedures to be followed
according to the type of welding equipment being used.
Flanging system: ISO 7005-1, EN ISO 1452, EN ISO
15493, EN 558-1, DIN 2501, ANSI B.16.5 cl. 150, JIS B
2220.
Reference standards
Construction criteria: EN ISO 16135, EN ISO 1452, EN ISO 15493
Test methods and requirements: ISO 9393
Installation criteria: DVS 2204, DVS 2221, UNI 11242
Actuator couplings: ISO 5211
Valve material
PPH (Polypropylene Homopolymer)
Seal material
EPDM, FKM (standard size O-Ring);PTFE (ball seats)
Control options
Manual control; electric actuator; pneumatic actuator
PPH DUAL BLOCK 2-WAY BALL VALVE
Technical Data
Dimensioins
Components
Technical Data
PRESSURE VARIATION ACCORDING TO TEMPERATURE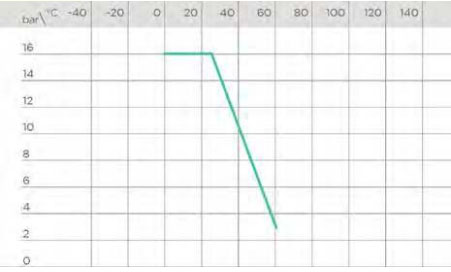 For water and non-hazardous fluids with regard to which the material is classified as CHEMICALLY RESIS-TANT. In other cases, a reduction of the nominal pressure PN is required(25 years with safety factor).
---
PRESSURE DROP GRAPH

---
KV 100 FLOW COEFFICIENT
The Kv 100 flow coefficient is the Q flow rate of litres per minute of water at a temperature of 20°C that will generate Δp= 1 bar pressure drop at a certain valve position. The Kv100 values shown in the table are calculated with the valve completely open.
---
Dimensioins
Components
GET THE LATEST PPH Ball Valves PRICES ON YOUR EMAIL