The PVDF End Cap Supplier company based in Agra, India. It is made from a combination of plastic and vinyl. Pipes are long lasting, do not wear out quickly and can be used for a long time. PVDF cap material is resistant to wear and tear.
As a result, PVDF Cap is widely used in water piping, underground wiring and conduit lines. You will need to take the top of the cap off to keep it from leaking. The cap is usually available for pipes with a diameter of two inches or more.
You may want to leave a portion of your plumbing system expansive to connect to later when you install or remodel your home's plumbing. PVDF cap the end of the pipe to leave an extension and keep your plumbing system leak-free. No cutting is required to remove the two types of caps.
The rubber cap and threaded PVDF caps are easy to install and remove; However, rubber caps are only available for PVDF pipe fittings with a diameter of 2 inches or larger.
PVDF COMPACT DIAPHRAGM VALVE
PVDF DIALOCK 2-WAY DIAPHRAGM VALVE
PVDF DIAPHRAGM COCK VALVE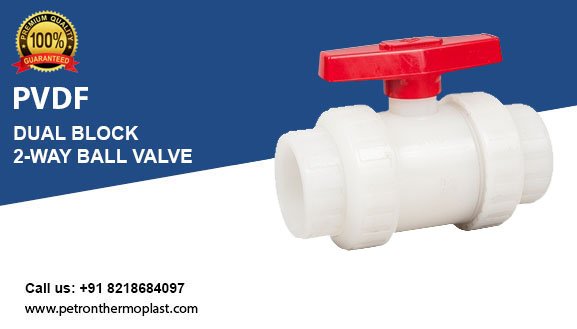 PVDF DUAL BLOCK 2 WAY BALL VALVE
PVDF DUAL BLOCK 3-WAY BALL VALVE
PVDF EASYFIT TRUE UNION BALL AND SPRING CHECK VALVE
PVDF MINI DIAPHRAGM VALVE
PVDF ELECTRIC ACTUATOR 3 WAY BALL VALVE
PVDF PNEUMATIC ACTUATOR 3 WAY BALL VALVE
Size
mm
Weight (kg/pc)
L
PVC
CPVC
1/2"
30.0
0.016
0.018
3/4"
36.0
0.027
0.029
1"
41.0
0.043
0.047
1-1/4"
47.0
0.058
0.060
1-1/2"
52.0
0.105
0.115
2"
59.0
0.164
0.178
2-1/2"
67.0
0.245
0.266
3"
77.0
0.435
0.460
4"
92.0
0.635
0.687
5"
107.0
0.915
0.980
6"
124.0
1.196
1.296
8"
165.0
2.832
3.070
10"
191.0
5.133
5.310
12"
215.0
7.918
8.155
GET THE LATEST PVDF End Cap Supplier PRICES ON YOUR EMAIL