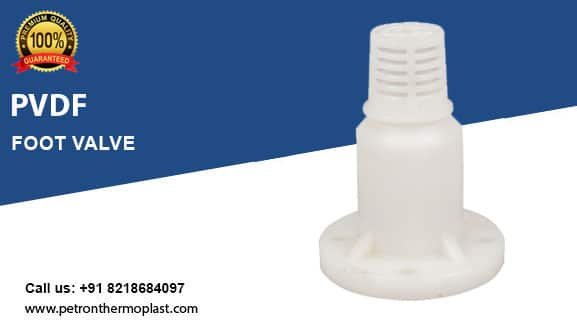 We provide the best quality PVDF Foot Valve manufacturer & exporter in India. How does a vertical turbine pump maintain its priming pressures? Will there be no gravity after the pump is turned off and all the water will go back to its tank after the pump is turned off. Learn how foot valves keep pumps primed and prevent damage in this article.
In a suction lift application, the PVDF foot valve is located at the end of a pipeline. In addition to serving as a check valve, these also include a strainer attached to the open end of the valve.
Check valves have spring-assisted check valves and PVDF piping systems. Whenever a pump is turned on, the tension of the pump column changes, and the valve opens as a result.
Whenever the pump is turned off, the PVDF responds by closing the foot valve once again. As a result, the pump will not lose prime every time it is turned off due to leakage of fluid from the pump column.
PVDF COMPACT DIAPHRAGM VALVE
PVDF DIALOCK 2-WAY DIAPHRAGM VALVE
PVDF DIAPHRAGM COCK VALVE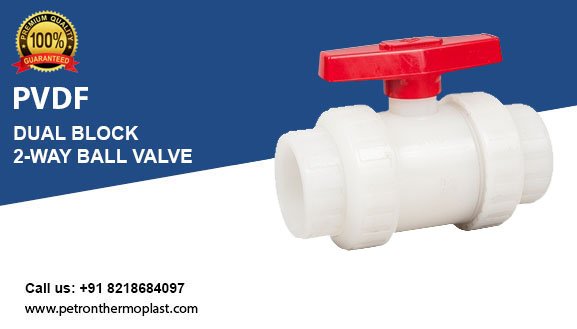 PVDF DUAL BLOCK 2 WAY BALL VALVE
PVDF DUAL BLOCK 3-WAY BALL VALVE
PVDF EASYFIT TRUE UNION BALL AND SPRING CHECK VALVE
PVDF MINI DIAPHRAGM VALVE
PVDF ELECTRIC ACTUATOR 3 WAY BALL VALVE
PVDF PNEUMATIC ACTUATOR 3 WAY BALL VALVE
The VZ foot valve allows the passage of fluid in one direction only.
• Connection system for solvent weld and threaded joints
• No metal parts in contact with the fluid
• Piston with incorporated counterweight able to work with high intensity fluid
• Limited pressure loss. Only minimum back pressure is required for the hermetic seal
• Valve material compatibility (PVC-U) with water, drinking water and other food substance conveyance according to current regulations
• Can be maintained with the valve body installed
Technical specifications
Construction
Foot valve
Size range
DN 10 ÷ 50
Nominal pressure
PN 16 with water at 20 °C
Temperature range
0 °C ÷ 60 °C
Coupling standards
Solvent welding: EN ISO 1452, EN ISO 15493, BS
4346-1, DIN 8063, NF T54-028. Can be coupled to
pipes according to EN ISO 1452, EN ISO 15493, DIN
8062, NF T54-016.
Thread: ISO 228-1, DIN 2999.
Reference standards
Construction criteria: EN ISO 16137 EN ISO 1452, EN
ISO 15493
Test methods and requirements: ISO 9393
Installation criteria: DVS 2204, DVS 2221, UNI 11242
Valve material
PVC-U
Seal material
EPDM
Technical Data
Dimensions
Components
Technical Data
PRESSURE VARIATION ACCORDING TO TEMPERATURE
For water and non-hazardous fluids with regard to which the material is classified as CHEMICALLY RESIS-TANT. In other cases, a reduction of the nominal pressure PN is required(25 years with safety factor).
---
MINIMUM PRESSURE REQUIRED TO LIFT THE PISTON
| DN | 10 | 15 | 20 | 25 | 32 | 40 | 50 |
| --- | --- | --- | --- | --- | --- | --- | --- |
| bar | 0,008 | 0,008 | 0,009 | 0,014 | 0,017 | 0,018 | 0,021 |
---
MINIMUM SEALING PRESSURE (PISTON IN CLOSED POSITION)
The figures refer to the seals thatare not worn.
| DN | 10 | 15 | 20 | 25 | 32 | 40 | 50 |
| --- | --- | --- | --- | --- | --- | --- | --- |
| mmH.2O | 150 | 150 | 200 | 350 | 350 | 350 | 350 |
Dimensions
Components
GET THE LATEST PVDF Foot Valve PRICES ON YOUR EMAIL