Layers of fibre reinforcement, such as cotton, paper, or glass fabric, are fused together to create TUFNOL® industrial laminates using premium thermosetting resins. Electrical transformers, gears, bearings, jigs, and fittings are just a few of the many possibilities for TUFNOL® industrial laminates, which come in a variety of grades. We also provide TUFNOL® components that have been produced utilising a variety of CNC facilities. Quotes may be given based on both current samples and designs.
Applications
Commonly applied to gears, bearings, jigs and fixtures.
Key Features
Temperature: 0°C up to +250°C.
Rigid with high strength & low weight.
Excellent electrical & thermal properties.
Non-corrosive.
Higher thermal expansion than many metals.
Easily machined.
Stronger under flexural, tensile & compressive forces than most engineering thermoplastics.
Resistant to heavy loads with minimal creep.
Weather resistant.
Good resistance to chemicals, oils, solvents & hydrocarbons.
Concentrated acids and alkalis will attack laminates.
Availability
We provide TUFNOL industrial laminates in sheet, rod, tube, or machined form to meet your needs. To identify the grade you require, kindly use the below links. There are also other grades available.
Please note that technical data for alternate sheet grades differ from technical data for tubes; please contact us if you require tube technical data.
Cotton Fabric TUFNOL® – SRBF
| TUFNOL® Grade | Product Description | Attwater® Alternative |
| --- | --- | --- |
| Whale Brand | General purpose medium weave mechanical grade. | B12 / F2 |
| Bear Brand | Medium weave with very good mechanical and electrical properties. | – |
| Carp Brand | Premium fine weave grade for quality components | B10 |
| Lynx Brand | A general purpose fine weave grade. | B11 |
| Vole Brand | Fine / medium weave for good machining. | B11 |
| Crow Brand | Coarse weave grade for tough rugged components. | B12 / F2 |
Glass Fabric TUFNOL® – SRBG
| TUFNOL® Grade | Product Description | Attwater® Alternative |
| --- | --- | --- |
| 10G40 | Epoxy resin grade. | B46 / G10 |
| 10G41 | Flame retardant epoxy resin grade. | B38 |
| 10G42 | High temperature epoxy resin. | B36 |
| 10G50 | Silicone resin for heat resistance. We only supply B32 alternative material. | B32 |
| 6G92 | Polymide glass fabric laminate. | B34 |
| TUFNOL® Grade | Product Description | Attwater® Alternative |
| --- | --- | --- |
| Kite Brand | Good quality general purpose electrical insulation grade. | B1 |
| 1P13 | Commercial grade. | B4 |
| Heron Brand | Top quality electrical grade for use in humid environments. | B1 |
| TUFNOL® Grade | Product Description | Attwater® Alternative |
| --- | --- | --- |
| 6F45 | A superior epoxy resin grade, good wear performance and outstanding electrical insulation properties. | B42 |
Examples of our Tufnol® Industrial Laminates Work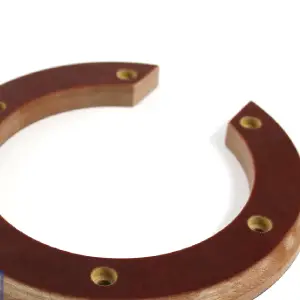 Machined Tufnol Part with Holes
High Temperature Insulation Boards