UHMW (ultra high molecular weight polyethylene) is an extremely tough plastic with high abrasion and wear resistance. The versatility of polyethylene has made it a popular plastic for countless industrial applications that require durability, low friction, and chemical resistance. Applications include UHMW wear strips, chain guides, packaging machinery parts, and marine dock fender pads.
Is UHMW right for your next project? Our plastics experts can answer your questions and advise on material applications, and machined or fabricated parts.
STANDARD SIZES
SHEET
Dimensions:
12 in x 12 in – 60 in x 120 in
Thickness:
0.062 in – 7 in
OPTIONS AVAILABLE
COLOR
Sheet:
White (Natural), Black,Green, Lime Green, Grey, Blue, Dark Blue
Rod: 
White (Natural), Black
GRADES
Virgin, Reprocessed, Anti-Static, 
Oil-Filled, Glass-Filled, Enhanced
Bearing and Wear, FDA Compliant,
Metal and X-ray Detectable
ROD
Outside Diameter:
0.250 in – 10 in
POLYSTONE®
MEGASHEET
Dimensions: 96 in x 240 in
Thickness: 0.062 in – 7 in
UHMW IS WIDELY USED FOR:
Chute, hopper, and truck bed liners
Wear strips and guide rails
Star wheels and idler sprockets
High speed conveyors
Packaging machinery parts
Food processing machinery parts
Bumpers, pile guards, and dock fenders
PERFORMANCE CHARACTERISTICS:
Extremely tough and durable
Low friction
Excellent abrasion resistance
Good chemical resistance
Low moisture absorption
Easy to fabricate
Length, width, thickness, and diameter tolerances vary by size, by manufacturer, brand, and grade. Custom sizes and colors available upon request. Also available as a tape.
UHMW Properties and Material Options
UHMW Liners– UHMW sheet is often used for lining chutes and hoppers to protect metal surfaces and to keep solid materials like sand, wood chips, or coal moving smoothly.
UHMW Parts– Easy to fabricate, UHMW is also used for packaging, conveyor, and food processing machinery parts including star wheels, idler sprockets, and under-chain wear strips.
UHMW Wood Replacement– UHMW offers very low moisture absorption and is a popular choice for marine construction applications like dock fender pads, pile guards, and anti-skid walkways. UHMW does not corrode, rot, or splinter like wood.
X-ray Detectable UHMW– Polystone® M XDT is an FDA compliant detectable UHMW designed to be visible to x-ray inspection technology. It has excellent impact and wear resistance, and low sliding properties for food and beverage processing.
UHMW Grades– Several grades of UHMW are available, including reprocessed, enhanced bearing and wear, and FDA compliant.
Tech Tip– Ultra high molecular weight polyethylene has a relatively high coefficient of thermal expansion. This may make it difficult to hold tight tolerances on UHMW parts that will be exposed to changing temperatures.
TYPICAL PROPERTIES OF UHMW
|   | UNITS | ASTM TEST | UHMW-PE |
| --- | --- | --- | --- |
| Tensile strength | psi | D638 | 3,100 |
| Flexural modulus | psi | D790 | 110,000 |
| Izod impact (notched) | ft-lbs/in of notch | D256 | 18.0* |
| Heat deflection temperature @ 264 psi | °F | D648 |   |
| Maximum continuous service temperature in air | °F |   | 180 |
| Maximum continuous service temperature in air | % |  D570 | slight |
| Coefficient of linear thermal expansion | in/in/°Fx10-5 | D696 | 11.1 |
Values may vary according to brand name. Please ask your Curbell Plastics representative for more specific information about an individual brand. *Double-15° notch
POPULAR PLASTIC MATERIAL COMPARISONS:
HDPE vs. UHMW— Both are abrasion resistant, but which is right for your specific application?
Explore the physical, mechanical, thermal, electrical, and optical properties of UHMW.
Sort, compare, and find the plastic material suited for your application using our interactive properties table.
IMPACT AND ABRASION RESISTANCE OF UHMW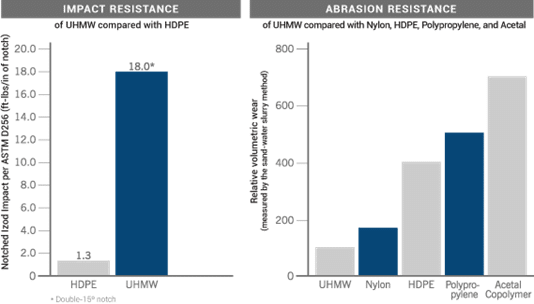 EXPLORE OTHER PRODUCTS & SERVICES
MOMENTIVE® Silicone Adhesives
MOMENTIVE® Silicone Adhesives; excellent temperature performance, dielectric properties, weatherability.
UHMW Tapes have excellent abrasion resistance and a low coefficient of friction.