The next best thing in industrial
We went above and beyond to create a fantastic experience. Perfectly crafted to suite your industrial business with almost unlimited options to get almost unlimited options.
Petron Thermoplast is the best PVDF tank manufacturer in India
The top PVDF tank manufacturer in India for the past few years has been Petron Thermoplast. You may trust our high-quality PVDF tanks and our exceptional product choices. We are able to manufacture high-quality goods in accordance with International DVS standards because of our highly skilled and technically sound staff, state-of-the-art facilities, complex production, and sourcing of high-quality raw materials. Our extensive knowledge aids in the system's cost-effective design.
Make sure to get "International Quality at Domestic Price!!" in summary.
Features
We provide bigger tanks with first-rate technical assistance.
The tanks are of excellent quality and feature a superb water flow system.
Inlet, drain, overflow, heater, thermometer, recycling, air agitation, cathode movement, dosing, sample, and slant bottom for sludge collection are all provided.
We have a great team of employees at our disposal that have the necessary experience to offer their customers high-quality service.
Prior to shipment, all items are subjected to stringent quality inspections.
Items that adhere to international DVS standards.
Long life of at least ten years.
Chemical resistance and corrosion resistance.
100% Watertight
Nothing to Maintain
Lightweight, sturdy, with an excellent finish and high tensile strength
It is highly resistant to chemicals
Our FRP tanks hold chemicals, including sodium hypochlorite, sodium hydroxide, aluminum sulfate, coagulant, and more. We carefully choose the FRP designs that best meet your needs and use the most cutting-edge technology to build the highest-quality, longest-lasting tanks that have been demonstrated to withstand the toughest conditions. We use sector-leading resin technologies.
CHEMICAL TANKS SOLUTIONS MANUFACTURER IN INDIA
Petron Thermoplast is one of the best manufacturers and suppliers of Chemical Storage Tanks which are used for storing many types of liquids and chemicals.
Robust parameter design, chemical tanks solutions which are known to be leak proof, immune to corrosion and low maintenance. We also customize Chemical Tanks as per the specific requirements of the client.
Plasticon Composites is a full-service turnkey solution provider in the field of corrosion resistant glassfibre reinforced plastic (GRP) tanks, piping and apparatus. Founded in 1950 Plasticon Composites is well positioned to meet your needs.
Plasticon Composites is the world's largest manufacturer of specially engineered, corrosion resistant, fibreglass reinforced plastics and dual laminate products providing integrated solutions for the handling, Chemical Storage Tanks and processing of critical fluids and gases for the chemical, water & wastewater, power generation and other process industries. Dual laminate constructions consist either of thermoplastic or fluoropolymer liners reinforced with GRP.
Things you need to consider about FRP Tank Manufacturer
Modern composite materials like FRP (Fibreglass Reinforced Plastic) are used to create vessels, tanks, and other equipment and appliances for chemical plants. Water treatment systems for industrial and commercial usage can be installed in FRP tanks and containers. FRP tanks or vessels are more durable, lightweight, flexible, robust, and corrosion-resistant than steel tanks or vessels. As a result, people generally consider these vessels to be an excellent substitute for SS vessels. The leading FRP tank manufacturer in India is Petron Thermoplast, which offers its customers high-quality goods.
Role of FRP tanks
Strong chemicals and liquids like water cannot penetrate FRP. Because of this, every significant producer of FRP pressure vessels prefers to employ FRP in water treatment plants. A smooth and easy flow of water is possible because of the leak-proof nature of FRP. Additionally versatile, it may take on any size and shape, whether vertical or horizontal (big or small).
Know some advantages
The great advantages of FRP tanks are:
The tanks are easy to install.
It is highly resistant to chemicals. 
The tanks have a low maintenance cost. 
The tanks are elegant and customized. 
The tanks are easy to install
FRP tanks are easy to install since they are lightweight. Because they just need a few electrical connections and a few outside plumbing connections, our FRP tanks are simple to transport and install. Moreover, they are incredibly light. Our team at Petron Thermoplast, the FRP tank manufacturer, is fully equipped and licensed to install your FRP tanks on-site if you prefer to leave the installation to the experts.
ROBUST DESIGN & ACID STORAGE TANKS
Robust design focuses on improving the fundamental function of the product or process, thus facilitating flexible design and concurrent engineering. In fact, it is the most powerful method available to reduce product costs, improve quality, and at the same time reduce growth gaps.
Plasticon Composites is an international specialist in design, manufacturing, installation and service solutions for the
processing, storage and transport of highly critical corrosive fluids and gasses. The products are constructed from high quality composite materials. Plasticon Composites has a consolidated geographical presence, with a multi-lingual staff and an active research and development programme. Our technical support team of specialists assists customers in the early planning and design stages of projects. Plasticon Composites
aims to reach an optimum end-result with solutions that reduce operational costs for its customers. Composite structures by Plasticon Composites come in a wide variety of materials, sizes, shapes, and forms, depending on process specifications. The versatility of working with today's
composites, combined with the Plasticon Composites expertise, results in an extensive range of integrated solutions
Applications and equipment for the Chemical Process Industry
Markets
Services
Materials
Products
Markets
Chemical
Water & Wastewater
Power Generation
Technologies & Electronics
Metals & Mining
Food & Agriculture
Services
Materials
Products
Two catholyte PP, GRP headers for the chlorine industry
Transport of process vessels all over the World
Field Fabrication & Installation
Plasticon Composites can produce on site when the transport of our products is not possible due to size and transport methods. The climate at the site is not an issue, Plasticon Composites already has experience working at temperatures from -40°C to + 50°C.
lasticon Composites has designed highly sophisticated winding machines and a mobile plant especially for the manufacture of Fibreglass stacks, ducts, apparatus and vessels on site. Depending on the diameter Plasticon Composites uses its vertical winding machine for diameters up to 20 metres and its horizontal winding machine for diameters up to 16 metres. The mechanical properties of the laminate produced with the on-site winding equipment are exactly the same as the properties of the laminate in the different production facilities.
Applications and equipment for the Chemical Process Industry
For chemical recovery and pollution control, Plasticon Composites offers process vessels such as scrubbers, bio filters, biogas reactors and many related accessories. These vessels handle the full range of dynamic and hydrostatic loads for chemical environments in industries such as wastewater treatment, power generation and chemical processing.
Supplemental system components including internal and external piping, distribution systems and ducting can be fabricated in virtually any shape or configuration. Many of the Plasticon Composites products manufactured today are designed to withstand temperatures ranging from -40°C to 250°C.
Products:
FGD Scrubbers | Deodorization Scrubbers | Bio Filters | Biogas Reactors | Stacks and Liners | GRP Covers | Duct Systems | Settlers | Separators | Headers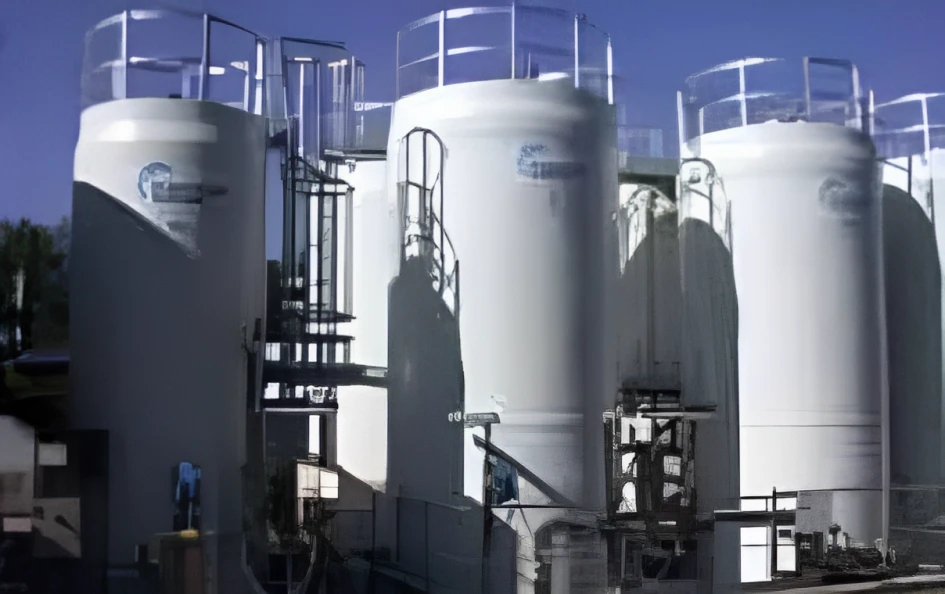 Petron Thermoplast is the best PVDF tank manufacturer in India
Plasticon Composites provides a wide range of storage solutions in GRP and dual laminate materials, for extreme and moderate service applications. Our in-house specialists are able to help you create or expand your storage capacity requirements in accordance with current design code standards and health & safety regulations.
Plasticon Composites' tanks and silos can be equipped with numerous accessories such as leak detection equipment, vent scrubbers, immersion heaters, ladders, railings, walkways, pumps, valves, level indicators, load cells, dust filters, etc.
Storage products:
Chemical tanks | Ultra-Pure Water tanks | Water and Wastewater tanks | Food Storage tanks | Salt Saturator tanks | Brewery tanks | Fuel Storage tanks | Mixing tanks and reactors | Silos | Insulated tanks | CE pressure vessels | Transportation tanks | Double wall storage tanks
GRP Piping Systems
Dual Laminate Piping Systems
Applications
GRP Piping Systems
Since 1969 Plasticon Composites has enjoyed a worldwide reputation in glassfibre reinforced pipes and fittings with its Kialite® brand and Plastilon® brand (bell & spigot bonding system) piping systems. Today, piping systems are available in a variety of standard diameters ranging from 25 to 1200 mm. Plasticon Composites offers pipe and fittings to meet all national and international standards depending on the area and application. Combining the strength of GRP and the chemical compatibility of plastics provides customers with a superior alternative to costly metal alloys and rubber-lined steel.
Dual Laminate Piping Systems
Applications
Chemical Tanks Solutions: Lining Systems
Plasticon Composites is recognized as a leading supplier in the field of fluoropolymer linings for a variety of applications in the pharmaceutical, chemical, semi-conductor, power generation, waste incineration, biotechnology and processing industries. Our lining products are characterized by outstanding chemical resistance, compatibility to both high and low temperatures, high pressure ratings and corrosion resistance. Fluoropolymer liners such as PVDF, E-CTFE, FEP, MFA, PFA and modified PTFE (e.g. TFM) can be employed as dual laminate, sheet lining, loose lining and fix point lining.
Our well organized manufacturing processes qualify Plasticon Composites to become a well-known supplier for high purity linings of ISO containers for the semiconductor industry. In these containers ultra pure chemicals are transported which are used for photolithographic etching processes for silicon based microchip or solar cell productions.
High purity equipment for the semi-conductor industry:
Apparatus for the production of ultra-pure chemicals
Ultra-pure chemical storage, day, slurry and mixing tanks
Sheet linings of ISO containers
Ultra-pure water storage tanks
Solid thermoplastic products Plasticon Composites is a certified manufacturer of solid thermoplastic constructions (PE, PP, PVC, C-PVC or PVDF), focusing on special solutions for customer-related developments such as: pipe bundles for wet electro filters, lamellar separators for water cleaning, covers for special apparatus. Our production strength of thermoforming thermoplastic materials enables us to reduce the number of weld seams to a minimum. This has led to us becoming a high quality supplier for the chemical industry.
Plasticon Composites has the capability to design, manufacture, install and service GRP and dual laminate products for your specific needs. An experienced, multi-lingual staff consisting of our team of engineers and technical support specialists assist customers in the early planning and design stages. The end result is an engineered system that reduces life cycle cost.
Maintenance services
Plasticon Composites recommends periodic upgrades and maintenance for the optimum performance of composite systems in extreme environments. To minimize downtime and avoid unplanned interruptions, Plasticon Composites offers the following maintenance services:
Inspections
Refurbishments
Preventive Maintenance
Facility Upgrades
Repairs