Plastics that limit contamination and outgassing
High purity plastics such as PEEK and PFA have low levels of leachables and extractables, as well as low outgassing and low absorption of process fluids. These materials are often specified for food processing, pharmaceutical, and semiconductor manufacturing applications where contamination must be avoided.
High purity plastics are also used for space flight applications where low outgassing and good flammability characteristics are required.
DuPont™ Vespel® Polyimide
Extremely high temperature creep resistant plastic with excellent friction and wear characteristics.
Fluoropolymer with outstanding mechanical properties and dimensional stability.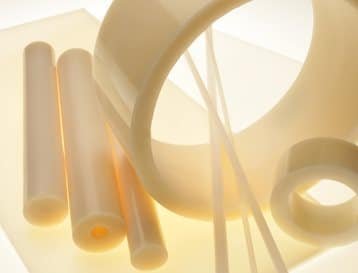 Plastic material with excellent mechanical strength, stiffness, and abrasion resistance.
Flexible fluoropolymer with outstanding chemical resistance and electrical properties.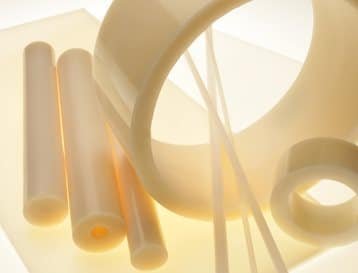 Fluoropolymer with outstanding dimensional stability, mechanical properties, and temperature range.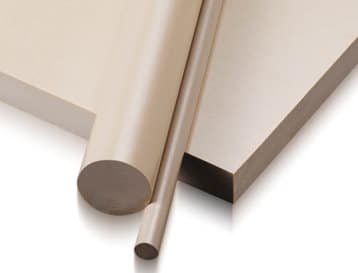 Strong, stiff plastic with outstanding chemical resistance; performs over a wide range of temperatures.
Flexible fluoropolymer that performs well in extreme temperature and harsh chemical environments.
Plastic material with excellent chemical and corrosion resistance at elevated temperatures.
High temperature, semi-transparent plastic material with good mechanical properties.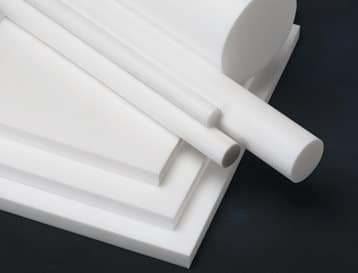 Low friction engineering plastic with outstanding chemical, high temperature, and weathering resistance.
High purity engineering plastic with excellent chemical, abrasion, and flame resistance.
High strength plastic with outstanding electrical and high service temperature properties.