PPH Butterfly Valve Manufacturer company in India. It is a quarter-turn rotational motion valve for stopping, regulating, and starting flow. A disc is placed on a revolving shaft in a butterfly valve.
The disc stops the line when the butterfly valve is fully closed. The disc of the PP butterfly valve is at a right angle to the flow of gas or liquid when it is completely opened.
The valve may be completely closed or opened by rotating the handle 90 degrees. Large PPH Butterfly Valves are frequently fitted with a gearbox, which connects the hand wheel to the stem through gears. This makes the valve's functioning easier, but it comes at the price of speed.
The Butterfly Valves are popular because of their dependability and low maintenance needs. Because of the reduced wear, the BVF Valves are very useful life can be extended. This lowers direct operating expenses and minimises the number of hours spent on valve maintenance.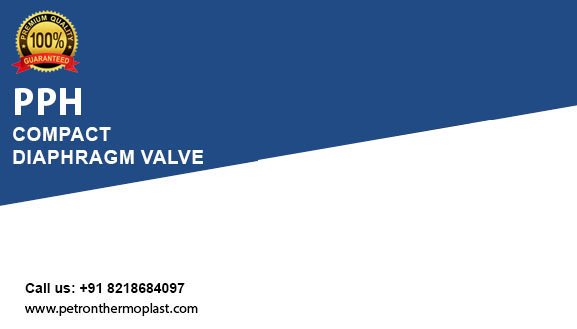 PPH COMPACT DIAPHRAGM VALVE
PPH DIALOCK 2-WAY DIAPHRAGM VALVE
PPH DUAL BLOCK 3-WAY BALL VALVE
PPH EASYFIT TRUE UNION BALL AND SPRING CHECK VALVE
PPH PNEUMATIC BUTTERFLY VALVE
PPH ELECTRIC ACTUATOR BALL VALV
PPH ELECTRIC ACTUATOR BUTTERFLY VALVE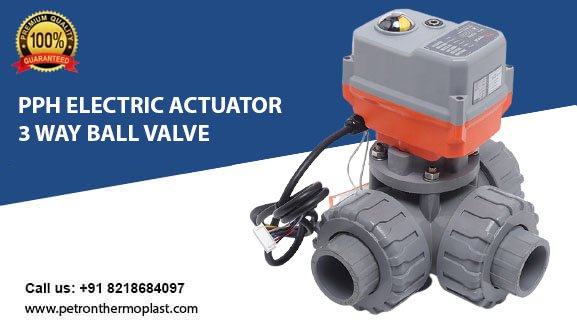 PPH ELECTRIC ACTUATOR 3 WAY BALL VALVE
PPH PNEUMATIC ACTUATOR 3 WAY BALL VALVE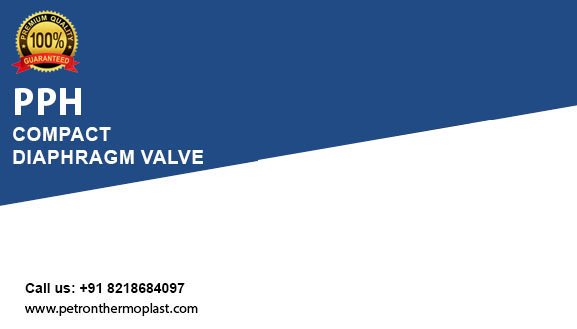 The FE is a butterfly valve for shutting off or regulating flow, specifically designed for water applications and equipped with a customisable Labelling System.
Disk in PVC-U with through shaft
• Zinc plated square section steel stem completely isolated from the fluid complying with standard ISO 5211: DN 40 ÷ 65: 11 mm DN 80 ÷ 100: 14 mm
DN 125 ÷ 150: 17 mm DN 200: 22 mm
• Can also be installed as a bottom discharge valve or tank dump valve
• Valve material compatibility (PVC-U) with water conveyance, drinking water and other food substances according to current regulations
• Possibility of directly installing a gearbox or pneumatic and/or electric actuators with a standard drilling pattern according to standard ISO 5211
F05, F07, F10
Technical specifications
Construction
Bi-directional centric butterfly valve
Size range
DN 40 ÷ 200
Nominal pressure
Wafer version
DN 40 ÷ 50: PN 16 with water at 20 °C
DN 65÷200: PN 10 with water at 20 °C
Temperature range
0 °C ÷ 60 °C
Reference standards
Flanging system: EN ISO 1452, EN ISO 15493, DIN
2501, ISO 7005-1, EN 1092-1, ANSI B16.5 Cl.150
Riferimenti Reference standards
Construction criteria: EN ISO 16136, EN ISO 1452, EN
ISO 15493
Test methods and requirements: ISO 9393
Actuator couplings: ISO 5211
Valve material
Body: PVC-U
Disk: PVC-U
Stem: Zinc plated carbon steel (C45). On request STAINLESS steel AISI 316
Seal material
Liner: EPDM, FKM. On request NBR
Control options
Hand lever operated; Gearbox, pneumatic actuator,
electric actuator
Technical Data
Dimemsions
Components
Technical Data
PRESSURE VARIATION ACCORDING TO TEMPERATURE
For water and non-hazardous fluids with regard to which the material is classified as CHEMICALLY RESIS- TANT. In other cases, a reduction of the nominal pressure PN is required (25 years with safety factor).
---
PRESSURE DROP GRAPH
---
KV 100 FLOW COEFFICIENT
| DN | 40 | 50 | 65 | 80 | 100 | 125 | 150 | 200 |
| --- | --- | --- | --- | --- | --- | --- | --- | --- |
| Kv100 l/min | 1000 | 1285 | 1700 | 3550 | 5900 | 9850 | 18700 | 30500 |
The Kv 100 flow coefficient is the Q flow rate of litres per minute of water at a temperature of 20°C that will generate Δp= 1 bar pressure drop at a certain valve position. The Kv100 values shown in the table are calculated with the valve completely open.
---
RELATIVE FLOW COEFFICIENT GRAPH
The relative flow coefficient is the flow rate through the valve as a function of the degree of valve opening. Horizontal axis: Percentage opening
of the disk Vertical axis: Relative flow coeffi-cient
---
OPERATING TORQUE AT MAXIMUM WORKING PRESSURE

Dimemsions
Components
GET THE LATEST PPH Butterfly Valve PRICES ON YOUR EMAIL