Know About the UPVC Reducer Bushing
UPVC Reducer Bushing is used to join metal pipes with different diameters by reducing the pipe's inner diameter. PVC Reducer bushing in steel and stainless steel with male and female NPT threaded ends are available from Pressure Connections & Stainless Hose and Fittings (SHF).
Thread diameters for males range from 1/4″ to 4″, whereas female end thread sizes range from 1/8″ to 3". To minimise rapid tyre wear and steering or breaking problems, rubber bushes must be in good shape.
Tees, straight adapters, elbows, and other hydraulic fittings are available in steel, stainless steel, and brass. A UPVC reducer bushing is a zinc or brass component that screws into a port and then has a threaded hole, allowing 3/4-inch fittings to be used in 1-inch ports example.
UPVC Pipes and Fittings and Valves products in all different UPVC Pipe sizes for different uses check the upvc pipe price lists and catalogue for the product details you need. To get more inquiry with us, free quote.
UPVC Reducer Bushing Technical Information
Reducing Bushing S X S
CBxxx/VBxxx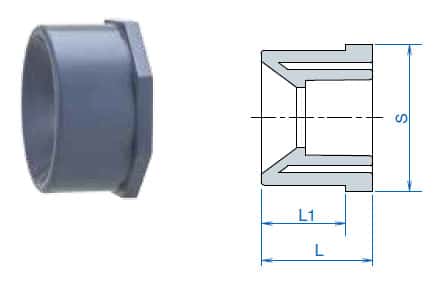 Size
mm
Weight (kg/pc)
L
L1
S
PVC
CPVC
3/4″x1/2″
33
25
30
0.014
0.023
1″x1/2″
36
29
38
0.027
0.030
1″x3/4″
36
29
38
0.019
0.021
1-1/4″x1/2″
41
32
47
0.057
0.057
1-1/4″x3/4″
41
32
47
0.048
0.054
1-1/4″x1″
41
32
47
0.032
0.040
1-1/2″x1/2″
44
35
53
0.067
0.075
1-1/2″x3/4″
44
35
53
0.068
0.076
1-1/2″x1″
44
35
53
0.058
0.065
1-1/2″x1-1/4″
44
35
53
0.034
0.038
2″x1/2″
50
38
66
0.114
0.127
2″x3/4″
50
38
66
0.114
0.127
2″x1″
50
38
66
0.116
0.130
2″x1-1/4″
50
38
66
0.103
0.115
2″x1-1/2″
50
38
66
0.085
0.095
2-1/2″x1-1/2″
55
44
78
0.160
0.179
2-1/2″x2″
55
44
78
0.118
0.132
3″x1″
58
48
94
0.244
0.273
3″x1-1/2″
58
48
94
0.258
0.288
3″x2″
58
48
94
0.245
0.274
3″x2-1/2″
58
48
94
0.200
0.245
4″x1″
70
57
120
0.540
0.603
4″x1-1/4″
70
57
120
0.541
0.575
4″x1-1/2″
70
57
120
0.515
0.542
4″x2″
70
57
120
0.528
0.573
4″x2-1/2″
70
57
120
0.492
0.520
4″x3″
70
57
120
0.427
0.463
5″x4″
82
67
150
0.635
0.731
6″x3″
92
78
175
1.241
1.254
6″x4″
92
78
175
1.250
1.396
6″x5″
92
78
175
0.945
0.953
8″x4″
120
102
230
2.700
2.892
8″x6″
120
102
230
2.458
2.746
10″x6″
158
138
285
4.915
5.296
10″x8″
158
138
285
4.648
5.113
12″x6″
174
154
340
7.271
7.880
12″x8″
174
154
340
7.585
7.974
12″x10″
174
154
340
6.624
7.180
GET THE LATEST UPVC Reducer Bushing PRICES ON YOUR EMAIL